Herman Roy Fuller was born on October 29, 1914 in Meridian, Mississippi and he had three half sisters, Cora Ann Theuer, Dorothy Theuer and Mary Irene Theuer. He was raised by his mother Lottie Theuer and his stepfather George Theuer. He grew up to be a smart kid and did very well in school. Before entering service he finished 4 years of High School. He had many friends and was active in the Methodist Church. Herman was very athletic and was a Golden Gloves boxing champion in the Meridian area.
He initially tried to join the Navy but was rejected because of a broken nose received earlier in a boxing match. He worked for the Southern Railroad before the war and entered the service on 10 February 1942 at Camp Shelby.
He completed his paratrooper training August 22, 1942 at Fort Bragg, NC.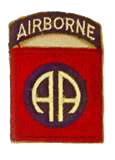 82nd Airborne patch
He served with the 307th Engineering Battalion of the 82nd Airborne Division. Later he became a medic after additional training in Atlanta, GA. He attained the rank of Sergeant, but he was later demoted for some incident while in England, the family never knew why.
Herman saw much action, being involved in North Africa, the invasion of Sicily, and Italian campaign. His unit was called upon for the invasion in the Netherlands in September 1944 (Operation Market Garden)



Once in a while Herman sent some messages back home, telling his family not to worry.
His unit landed in the Nijmegen area, but here is not much known about the circumstances surrounding his death. Initially his family received several telegrams stating Herman was missing in action and a later one confirming his death on September 26 1944, probably in a battle near the Waal Bridge. He was giving aid to a wounded soldier and refused to leave him. The family was told that he was killed by an artillery shell.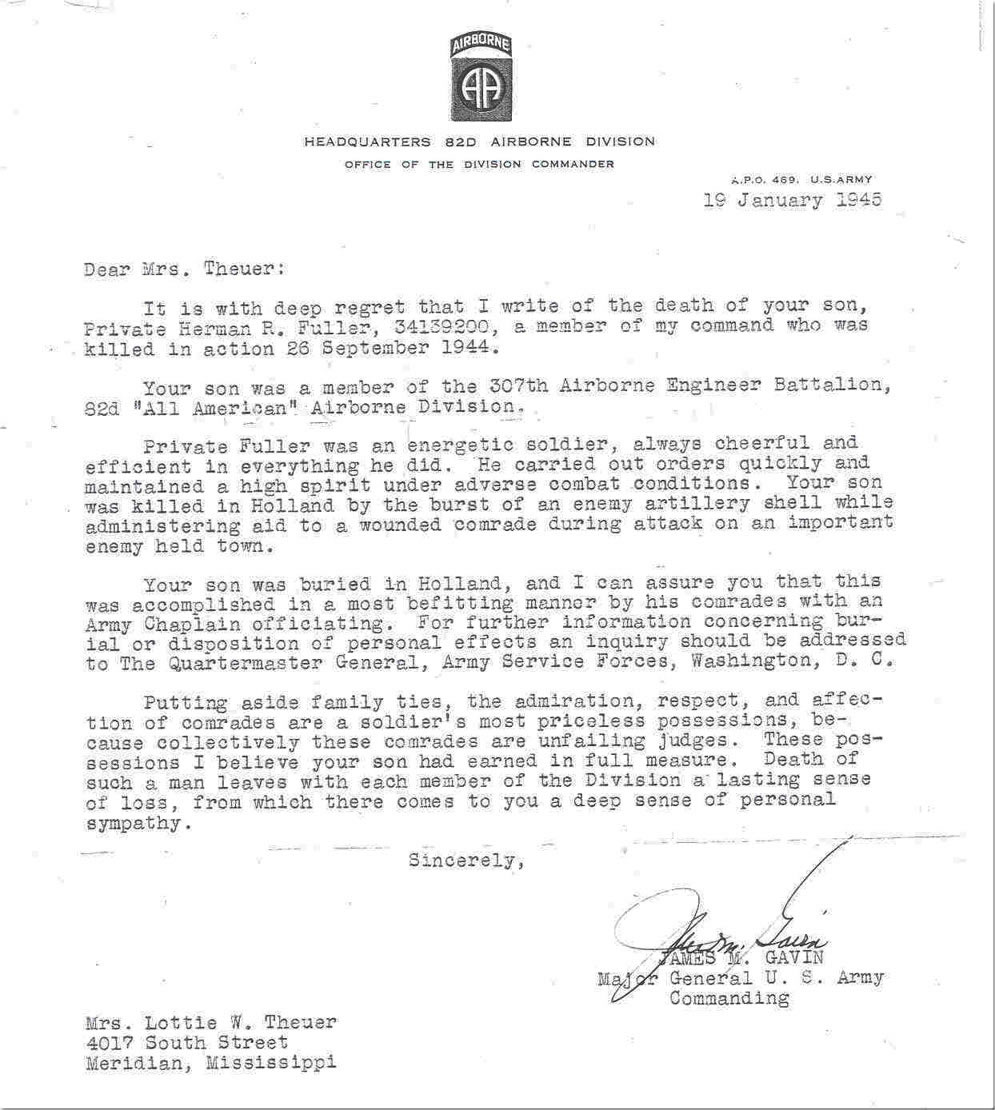 the letter pertaining to the death of Herman Fuller
| | |
| --- | --- |
| | |
| The grave of PVT Herman R. Fuller | Adopter Jasper van Haren at the grave of Herman Fuller |
A special word of gratitude for sharing information is going out to :
Mrs. Dorothy Frye, sister of PVT Herman R. Fuller.
Mr. Terry Wirick and his colleagues of the Erie County Public Library, PA
Mr. Jasper van Haren, adopter of the grave of PVT Herman R. Fuller