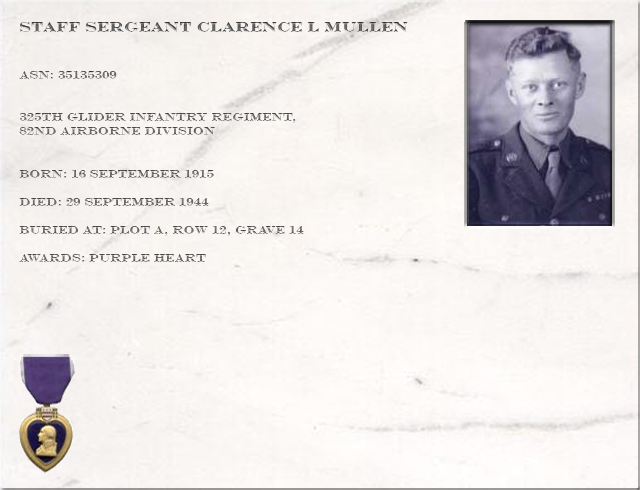 Clarence L. Mullen – Sergeant Clarence Leroy Mullen was born on September 16, 1915 the second of twelve children and the oldest of five boys born to Clay and Leona (Roeser) Mullen. Clarence was born and grew up in rural Shelby County, Ohio. As a young man he worked on the farm and in a local factory.
Clarence entered military service from Sidney, Ohio on March 19, 1942. He completed basic training at Camp Claiborne, Louisiana, and glider training at Ft. Bragg, North Carolina. As a member of the 325th Glider Infantry of the 82nd Airborne, he served in Africa, Italy, Sicily, England, Ireland, France, and Holland. Clarence was awarded the Purple Heart for wounds received in France on July 4, 1944. After a short hospital stay Clarence Mullen returned to his unit as it prepared for Operation Market Garden.
Commanded by Colonel Walter M. Whitman, the 325th Regiment was officially activated as part of the 82nd Division on 25 August 1917 at Camp Gordon, near Atlanta, Georgia. Being a National Army division, the regiment was composed of draftees. The only personnel actually assigned to the regiment however, were a small cadre charged with the task of preparing for the thousands of draftees who would soon be flooding the camp.
| | |
| --- | --- |
| | |
| 82nd AD patch | 325th GIR patch |
The unit of which the 325th Regiment was a member, the 82nd Division was comprised of officers and soldiers from what most would consider the "Deep South". This changed a few weeks into the training program. The War Department issued orders instructing the division to send all of its soldiers, minus a 783 man training cadre to other camps. Leaders watched as their soldiers departed to be replaced by soldiers from all regions of the United States.
It was noted that the 82nd Division was now made up of soldiers from every state in the union. It is from this fact that the 82nd Division received its nickname "The All American Division" and is represented by the "Double A" patch worn today.
The 325th Glider Infantry Regiment was formed and given the task of arriving into battle by glider. Parachutes could, and often did, wind up scattered for miles on a drop zone. The same held true for equipment and supplies. The glider was the answer to all these problems. As long as a glider stayed in one piece, the items inside it would too. This meant no more searching through the swamp looking for the missing barrel to a Howitzer. Jeeps could also fit into a glider. Best of all, troops could be put into a glider and land as a coherent fighting unit.
Gliderborne assaults, however, were not without their risks. Gliders and their tow planes were slow, fat targets. They had no armor to protect the men inside. Landing in a glider was also an adventure and little more than a controlled crash. Even if the pilot had the time and altitude to select a good spot to land, conditions on the ground of which he might be totally ignorant could wreck a landing. Ditches, wire, fences, tree stumps or a host of other possible ailments could flip, twist, or gut an unfortunate glider.
| | |
| --- | --- |
| | |
| 4A Gliders | the 325th GIR preparing for operations |
The following is a brief report from James Ralph, who served with the 325th GIR : "On, or about 28 September, we were directed to clean out a contingency of Germans who were well entrenched on a densely wooded hillside, called the Kiekberg Woods. Three quarters of the way up the hill the enemy was dug in an camouflaged so effectively as to be nearly invisible. My unit was on the right flank advancing up the slope until we were within 20 feet of their foxholes. We couldn't see them unless a black helmet came out of the ground for couple of seconds. The mortar fire was particularly devastating since many of the rounds exploded in the trees, showering shrapnel over a wide area. Word was passed through the ranks that our Company Command Post had been hit, wiping it out".
Clarence was first declared missing in action and which was later changed to killed in action. His parent's received the following information according to military records:
"On September 29, 1944 Sgt. Mullen participated in an attack on the enemy in the Kiekberg Woods, Holland. Enemy opposition was encountered and your son was seen to be injured. However, enemy gunfire prevented his evacuation and he was not subsequently seen or heard from. Full consideration has been given to all available information bearing on the absence of your son. In view of the fact that twelve months have now expired without the receipt of evidence to support a continued presumption of survival, the War Department must terminate such absence by a presumptive finding of death. In the case of your son, this date has been set as September 30, 1945."
Later records indicate that his body was recovered and is buried in the American Cemetery at Margraten, Netherlands. While Clarence's death left a huge hole in his family; every one of his brothers, sisters, nieces, and nephews were and are extremely proud of his service and sacrifice. Because of this sacrifice and that of the thousands of others who served and died; Clarence's legacy is a large, happy, prosperous family.
A special thank you goes out to all of the people of The Netherlands for the care they provide to the graves of those American service men who fell in Europe and are buried at the American Cemetery at Margraten, Netherlands; but especially to Marc Leenders and his grandfather Jo Smeets for the special attention they provide for Clarence's grave.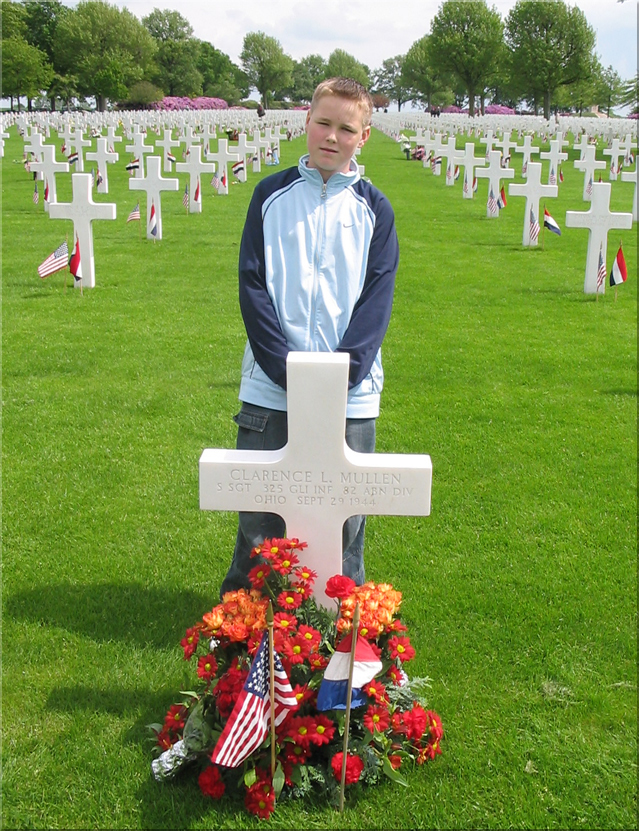 Adopter Marc Leenders at the gravesite of SSGT. Clarence L. Mullen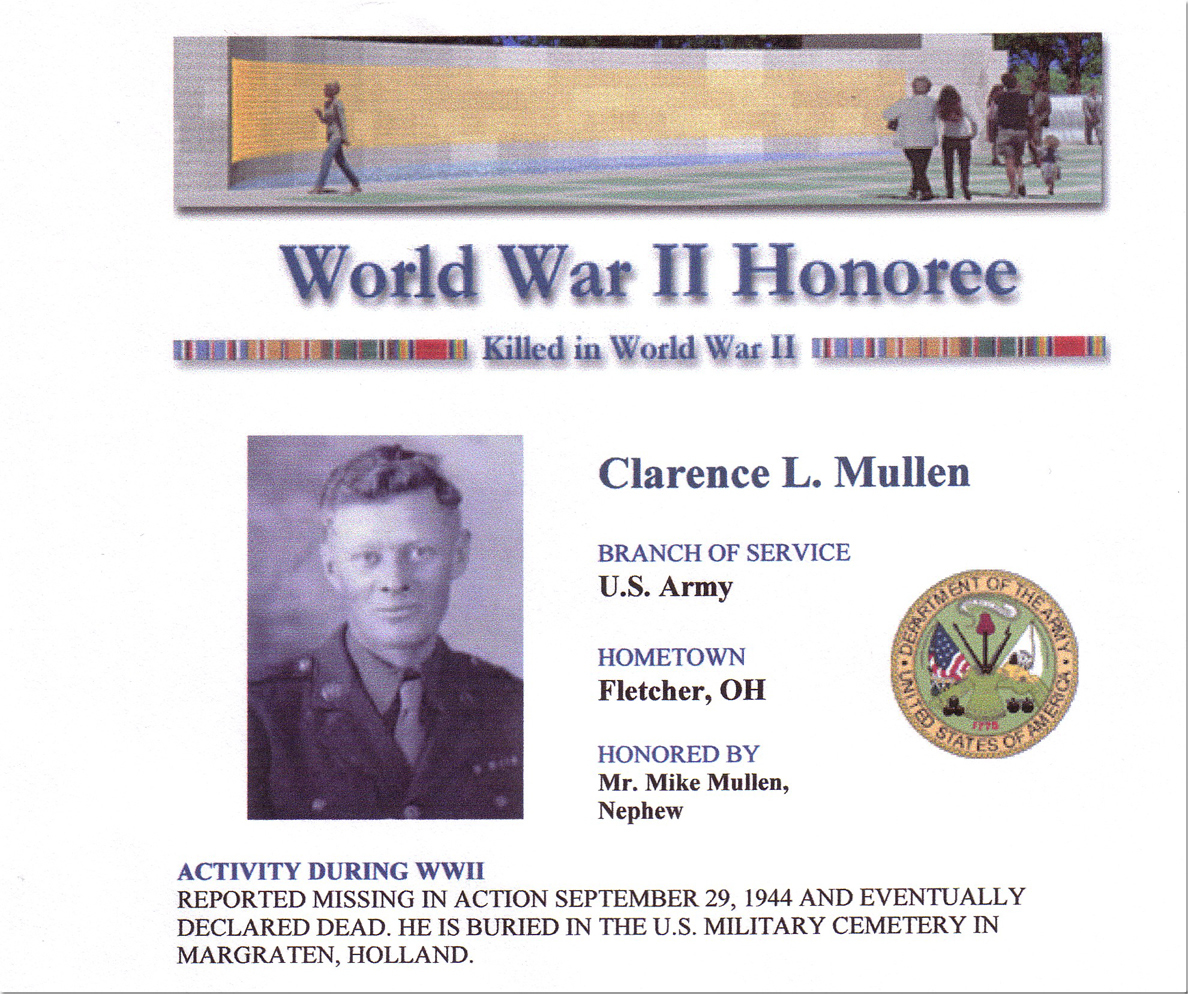 SSGT. Clarence L. Mullen as honored by nephew Mr. Mike Mullen at the WWII Memorial website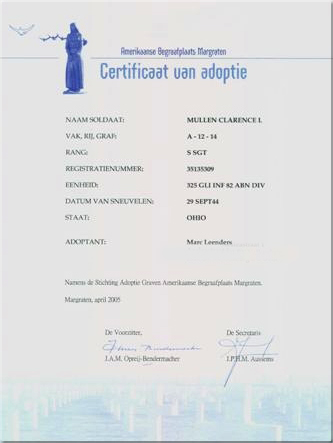 the adoption certificate pertaining to SSGT. Clarence Mullen
A special word of gratitude for sharing information is going out to :
Mr. Mike Mullen, nephew of SSGT. Clarence L. Mullen
Marc Leenders, adopter of the gravesite of SSGT. Clarence L. Mullen
Mr. Jo Smeets, grandfather of Marc Leenders