STIWOT foundation visit to Margraten
Saturday 21 April 2007 the STIWOT foundation (Stichting Informatie WereldOorlog Twee - Foundation Information WordWar two-) brought together some 30 people at the Netherlands American cemetery at Margraten. Every year the STIWOT foundation organizes 'Battlefield tour' trips to locations which are related to the second World War. Those who have an interest in the history and backgrounds of WWII can sign in to these battlefield tours.
This time the plans were focused on the Netherlands American Cemetery and Memorial at Margraten and Fort Eben-Emael near Maastricht.
While a radiant sunny light brightened up the Limburg landscape, the participants gathered at the cemetery early in the morning. Several, if not the most, of the participants also have adopted one or more graves of U.S. WWII liberators interred at the cemetery in Margraten.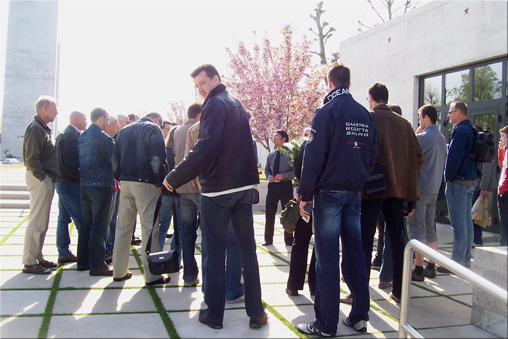 The STIWOT battlefield tour participants gathered at the visitor's center of the cemetery by the cemetery's ABMC staff
Before the visitors were to be guided to the graves area they were invited to the Court of Honour WWII museum hall to receive a tentative but impressive WWII history review, STIWOT members are considered to be WWII-experts.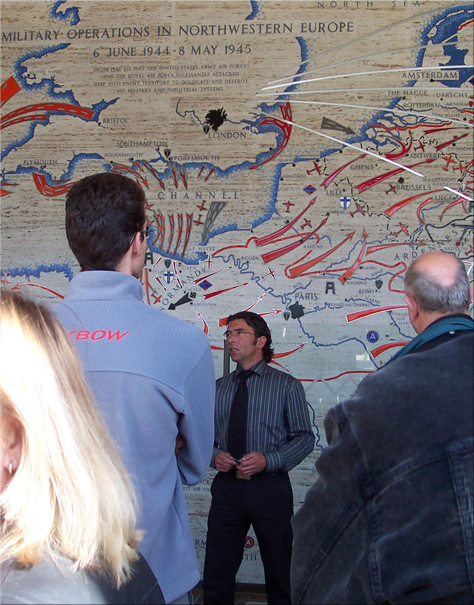 The expert guidance of Margraten cemetery ABMC staff member Frenk Lahaye was very impressive and made the visit something to remember well
Particularly the reassurance that the burial of the young men and women interred at the cemetery was executed with the utmost respect and meticulous precision was very comforting information, especially for those who adopte one or more graves at the cemetery.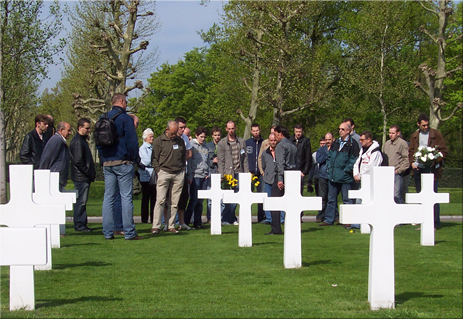 ABMC staff member Frenk Lahaye's guidance information given at the graves area made everyone feel humble.
At the end of the guided tour caretakers were given the opportunity to visit the grave of 'their' respected soldier. One of these caretakers only recently adopted one of the graves at the Margraten cemetery. The STIWOT Battlefield tour was the first opportunity for Natasja van Dijk to visit the grave of Pfc. Johnnie M. Skinner of the 333rd Infantry Regiment of the 84th Infantry Division.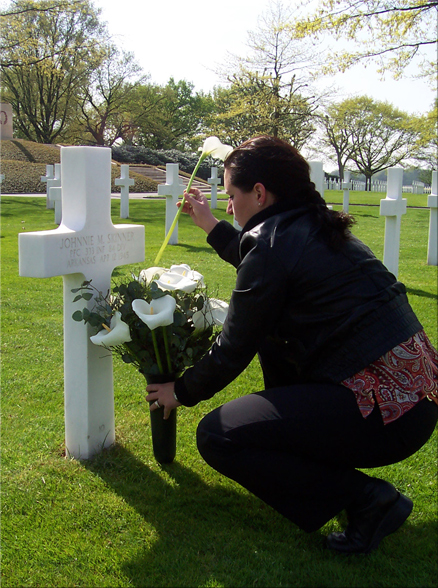 Natasja placing flowers at the grave of Pfc. Johnnie M. Skinner for the first time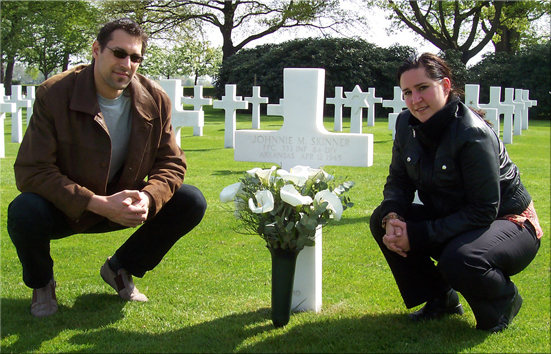 Natasja and partner Bas don't know much about the young man they are looking after but they hope that in due time Pfc. Johnnie M. Skinner will be a familiar face to them.
At noon, after a visit to the cemetery which lasted for several hours, the STIWOT battlefield tour was relocated to Fort Eben-Emael near the Limburg capital of Maastricht, which was a worthy and interesting conclusion to the visit of the Margraten cemetery.
| | |
| --- | --- |
| | |
| At one moment at fort Eben-Emael the visitors could enjoy a panoramic view of the Limburg landscape with the Margraten cemetery tower / chapel in the distance. | The Margraten cemetery tower / chapel as seen from Fort Eben-Emael location, appearing as a white clear dot, high at the horizon |