Memorial Day 2006 at the Netherlands American Cemetery and Memorial Margraten, the Netherlands
WWII and adoption...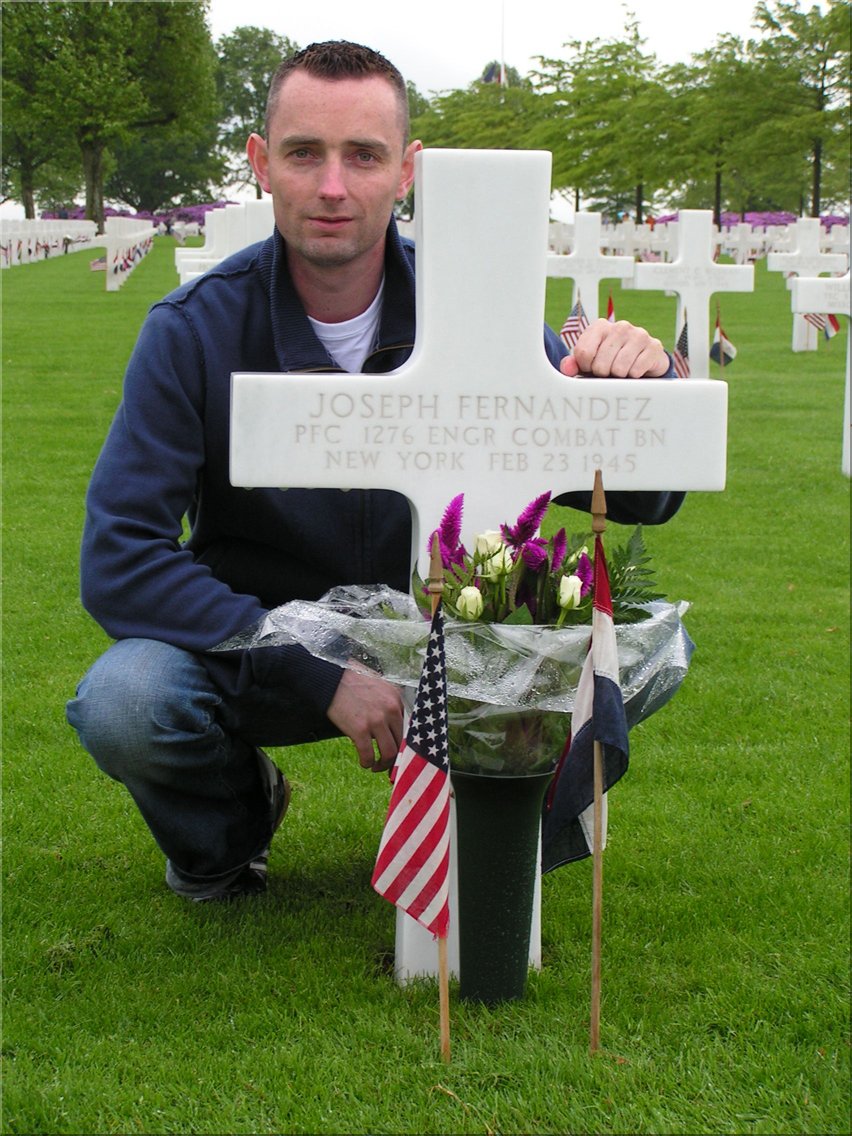 Martijn at the Memorial Day gravesite of
Pfc Joseph Fernandez
Since a number of years I have certain sentiments with and about the second world war. My family had their experiences in the war so there always has been some interest in the topic.
Nevertheless these sentiments have grown stronger in the past few years, also, like many others have experienced, by watching the band of Brothers series.
My grandfather from Rotterdam had to work in German factories, otherwise they would have had no money and my other grandfather from s'Hertogenbosch worked with the PTT of that time and had an important role in maintaining communication lines. During the Hunger winter of '44 / '45 my grandmother from Rotterdam had to go to Overijsel by foot to find some food to survive. All in all there were many stories to tell within my family.
In 2005 I had the luck to meet and spend a day with some American veterans. I was very impressed by these veterans who's appearance was just being themselves.
I also had the opportunity to meet some British liberators of my native city s' Hertogenbosch. After these experiences I just felt I had to do something in return. The British veterans, of the 53rd Welsh Division told me about a war cemetery in Uden and some war graves in Reusel.

As a result of their stories I came across a special gravesite in Reusel, and I immediately felt I wanted to place some flowers at the gravesite, to honor all the living heroes but particularly those who gave their life for my freedom.
After doing so I felt very good and satisfied and I became more involved with wargraves in the Netherlands. That is how I discovered that the best known cemetery in the Netherlands, the Netherlands American Cemetery and Memorial in Margraten, offered the opportunity to 'adopt' one or more gravesites. The thoughts and feelings I had with such a possibility can best be compared to graduating from Highschool, taking your driving license or find a top job...., I just felt great about it and couldn't wait to apply. To my luck there were still some graves available for adoption at that time. I was appointed to two graves and the day I received the adoption certificates, I just started to weep like a child, of happiness. I felt so enormously honored and I realized that Christmas was near so I immediately planned my first visit to the American cemetery in Margraten.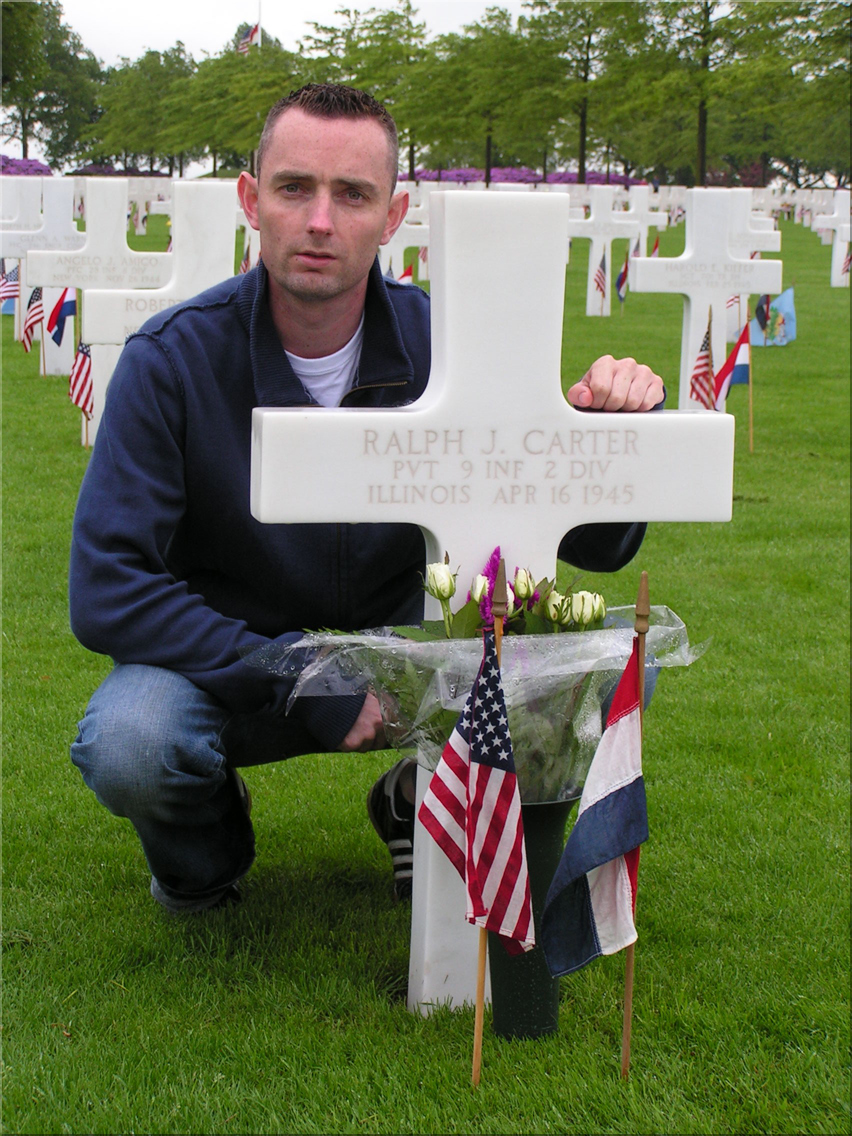 Martijn at the Memorial Day gravesite of
PVT Ralph J. Carter
The day before Christmas the flower arrangements were ready to take them to the graves. It seems like yesterday with a very clear recollection of that day. When I arrived at the cemetery in Margraten it was a misty, rainy and very quiet day. I was standing at the top of the stairs near the tower looking at all those headstones when I felt a pit in my stomach. After a couple of minutes of daydreaming I went searching for the gravesites I adopted and I remember how startled I was when I found the first grave. I was so moved that I started to weep. I did not know exactly what to do or say, the only words I can remember saying were "thank you"
From the corner of my eye, again to my surprise, I became aware of the other grave, just three rows away. I then felt a shivering going through my body but also a notion of feeling at home, with my family. After placing the flower arrangements I automatically started to 'talk' with the persons in the graves. I had many questions which, I knew, would stay unanswered. So I had to find out these answers for myself. For at least an hour I sat down at the graves being carried away by all my thoughts and emotions. On my way back home I knew it for certain : no matter how but I just had to be at Memorial Day in Margraten.

End of May 2006.
I arrived at the cemetery Saturday before Memorial Day to place some flowers at the graves in all quietness. From the small flags decorating each grave and other arrangements I could tell that Memorial Day at the Margraten cemetery was going to be something special.
Coincidentally I witnessed the first visit of the Dukeman family to the grave of William H. Dukeman jr. I knew that he was a soldier serving with Easy Company, 506 PIR, famous from the Band of Brothers series, who died during a German mortar attack in the vicinity of Opheusden, here in the Netherlands. I had seen the The Band of Brothers scene pertaining to his death in the episode called 'Crossroads'. It was very impressive to see the American flag being formally handed over to the Dukeman family with a brief but beautiful ceremony. I still get goosebumps when I think of the sound of the bugle.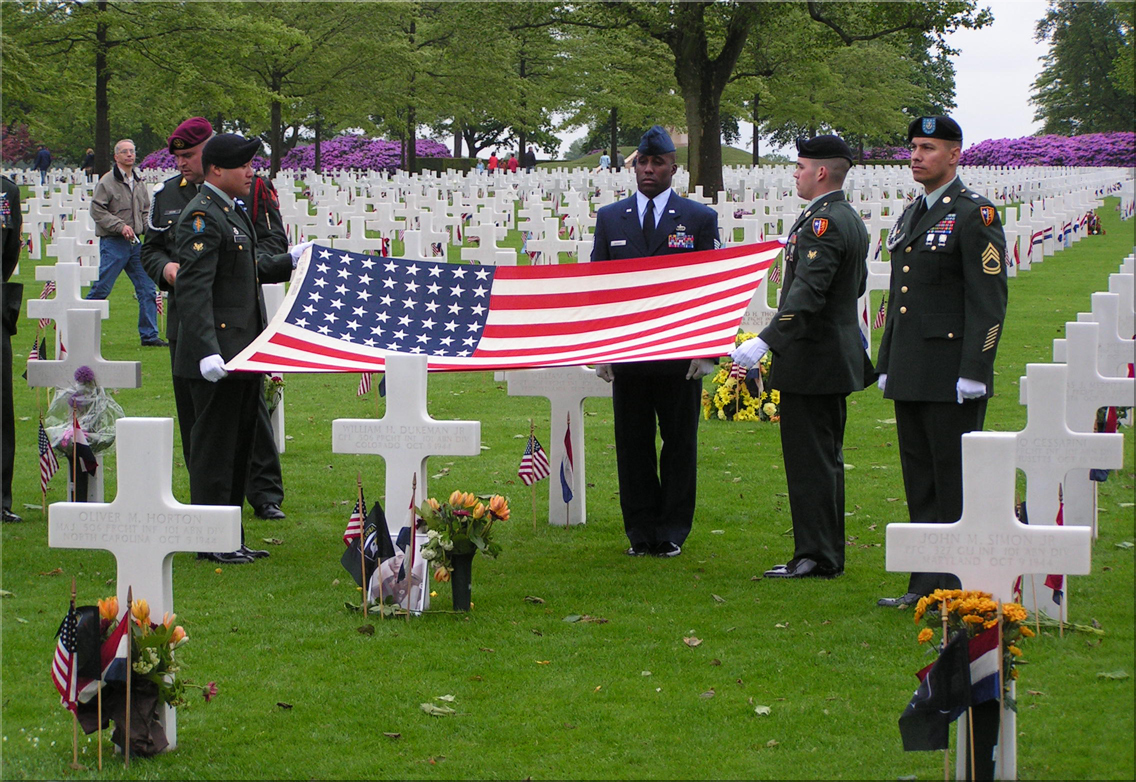 Formally handing over the American Flag (with 48 stars) to the Dukeman family
Sunday was Memorial Day. Friends had arranged for some reservations for seats at the front rows close to the ceremonial area. I was astonished by the great number of people attending this Memorial Day and all the care with which it was organized. It is quite difficult to describe how beautiful the ceremony at this cemetery is, and I think it is quite comforting to know that this will be organized every year.
I also truly believe that each story, each grave, each memory can not be forgotten. I felt privileged and grateful for being at the ceremony. The arrangements were overwhelming. How much effort was put in all this is difficult to explain in words, it is best to go there and have a look for yourself. The many beautiful wreaths which were laid to honor all those who have perished for my freedom, and the end of the ceremony the four fighting jets flying over twice in the missing man formation made this day unique and unforgettable.
To me Memorial Day reaffirmed that those who have fallen for my freedom may never be forgotten :
FALLEN BUT NOT FORGOTTEN…

Martijn van Haren

Memorial Day ceremony as seen from the gallery