Memorial Day 2006 at the Netherlands American Cemetery and Memorial Margraten, the Netherlands
Tradition...
Lucien and son Indy preparing the flowers for
TEC5 Frank H. Jenkins

The grave of TEC5 Frank H. Jenkins
Thirtynine year old Lucien Gerardu and his 3 year old son Indy visited the grave Lucien has adopted. The soldier who found his final resting place here is TEC 5 Frank H. Jenkins, A Co, 49th Armored Infantry Battalion, 8th Armored Division. Frank Jenkins was from Jackson County, Missouri. Hie died on April 8 near Werl in Germany. Lucien and his partner Elvi adopted two other graves for future generations to take over the tradition. One of the graves was originally adopted by Lucien's grandmother but eventually the tradition was passed on to another generation.
After a quest of more than one year Lucien finally made contact with some relatives of Frank Jenkins, so now he shares the stories with them. Lucien was and is convinced of the importance of keeping these stories alive, so the sacrifices will be remembered by future generations as well.
| | |
| --- | --- |
| | |
| Lucien´s son Indy placing flowers at the grave | Indy at the grave of Frank Jenkins |
| | |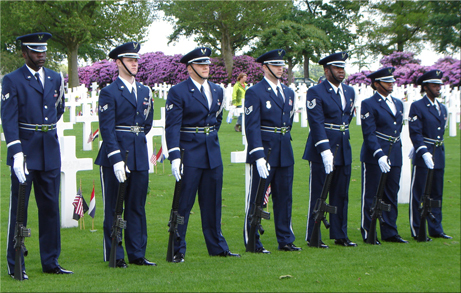 The Firing Party