Annual Limburg Award in 2008 for the Foundation Adoption Graves American Cemetery Margraten.

Thanks to the Adoption Foundation from Margraten, the American Cemetery at Margraten has become a well known term far beyond the Dutch national borders. Under the chairmanship of Mrs. Fien Opreij-Bendermacher significant efforts of the Adoption Foundations lead to the conclusion that by now almost all of the graves at the American Cemetery have been 'adopted' anew.

At the end of 2002 the Adoption Foundation took over the work of the Margraten Civil Committee, which since the waning days of the war in 1945 maintained the adoption register. The main goal of the new Adoption foundation was to revise the old adoption register. Many of the adopters of the first hour had moved, passed away or were divorced. As a result many graves were not actively adopted anymore. The Adoption Foundation managed to trace back and contact most of the (relatives of) the initial adopters since she started her activities. When, after a meticulous verification procedure, it became unambiguously clear that a prolonged active adoption of one or more specific graves by the 'old' adopters was not possible, the grave in question was applicable for a renewed active adoption. At he moment all 8301, but 300, U.S. servicemen and –women, who found their final resting place at the American Cemetery, are receiving the personal attention, through a new generation of adopters, making sure that their lives will not be forgotten.

The new goal of the Adoption Foundation is finding adopters for the soldiers who are classified as being missing in action. Their names are inscribed at the so called Tablets of the Missing at both sides of the Square of Honor at the American Cemetery. These are 1722 names of U.S. soldiers who died in battles like 'the battle of the Bulge' or in the long and fierce fights in the Huertgenwald area in Germany. Up untill today their bodies have never been found again.

The Adoption Foundation received the award at a meeting on 18 March at the Hoensbroek Castle.

Of course the Fallen But Not Forgotten team is very pleased with this award for the Foundation Adoption Graves American Cemetery Margraten.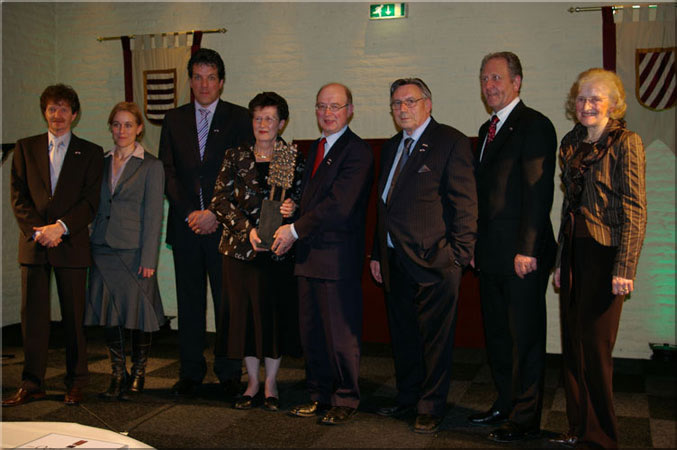 From the left: Bert Kleijnen, Aimee Haenen, Ruud Croonen, Fien Opreij-Bendermacher, Jacques Aussems,
Jo Purnot, Wim Kamerman, Maria Duizings-Croonen